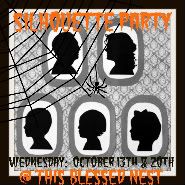 I am so excited about the silhouette party over at
This Blessed Nest
! You will want to check out my
Silhouette Tutorial
to see how I made these silhouettes of my kiddos. It goes along with this craft. :)
I was on
Simply Silhouettes
the other day and saw the cutest idea for an iPhone cover. Their cost was $30, and I've seen ugly covers for more $, but I just don't want to spent that much, so I decided to come up with a solution! Here is what we made... (Yes, WE. Hubby had to help me with this one. ;)
First, I took already-made silhouettes and made a collage of them in Picasa...
Then my hubby helped me add this cute oval frame around each one.
and then he printed it off on some pretty scrapbook paper I bought at Michael's for about $5.
I bought a clear iPhone cover at the mall for $12.
Then I used the insert as a template for my scrapbook paper.
The hardest part was getting the hole punched in just the right spot for the camera!
But here it is! I'm pretty happy with how it turned out!
I made a few. One with just my initials, no silhouettes.
So, there ya go! A super cheap, super cute personalized iPhone cover! :)