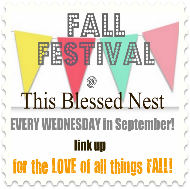 I am linking up to the Fall Festival at This Blessed Nest! Stop by each Wednesday this moth for cute Fall decor ideas!
I promised, quite a while ago, that I would share how I made the sweet silhouettes we have hanging in our living room. Well today is the day! These were done very quickly and are not the priceless and expensive silhouettes you can pay lots of moola for and cherish forever. These are cheaply made and printed on computer paper. I do hope to make them more permanent by printing them out on some acid-free card stock, but for right now, these do the job.
First, I took side view pictures of my kiddos...
He looks so thrilled... ;)
Then head over to
Picnik.com
and upload your photo. Once you have your picture on there, click on CREATE, then click on EFFECTS, and the scroll all the way down and click on Sandbox Effects and choose Adjustable Threshold. Play with the black threshold until you have a black outline of the whole face, like this...
Click APPLY and then go to DOODLE and choose white as your brush color. You can make the brush size larger or smaller depending on how precise you want to be. Here is the picture once I whitened the area around his torso...
Then just choose the brush color as black and color your picture in like this...
You can zoom in and out and make your brush size larger or smaller as you get the details of the face. (lips, nose, and such)
And here is the finished silhouette...
Isn't is sweet? Its easy, free, and a great conversation piece! I just printed them out and ran to the Dollar Tree for 5 picture frames. They also had these cute oval mats, which worked perfectly.
The kids loved pointing out who is who. :) Quick tip... Ponytails worked best for the girls.
I got my sweet hubby to hang them for me because he is great at making sure they are straight. I would have been trying to eyeball it and that would have been disastrous, I'm sure.
And here they are! Don't they look sweet?
I hope this tutorial helps! Let me know if anything is unclear. I'd love to know what other cute ideas you come up with. :)